Breeders Directory
Sub-links for this page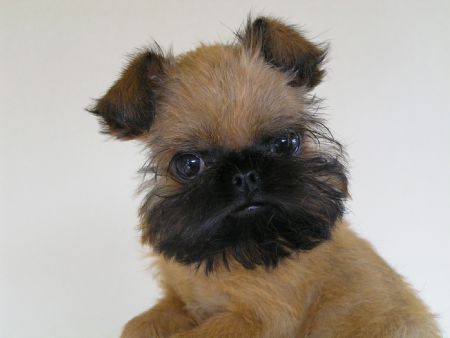 The Country Griffon Bruxellois Club has a Code of Ethics for all members who are Breeders.
We also have a Code of Conduct for members.
We expect all members to abide by these Codes and reserve the right to refuse membership if we feel that the person does not or has not behaved in a manner that meets the requirements of the codes
Both Codes can be seen below
https://oz.dogs.net.au/griffons/uploads/documents/Appendix-3-Code-of-Conduct-up-date-2020.pdf
https://oz.dogs.net.au/griffons/uploads/documents/Appendix-4-Code-of-Ethics-update-2020.pdf
Please note: Every breeder, if registered with the ruling 'Dog' body in their state, must provide each puppy purchaser with either a full or limited pedigree registration paper at time of purchase. If this is not included in the price of the puppy we recommend that you do not go ahead with the purchase and contact the club for advice. This is your only guarantee of your puppy being a purebred Griffon Bruxellois. All members of this club who are on our breeders list are registered members of their states ruling body, for example 'Dogs Victoria' ,and therefore must provide purchasers of their puppies with a pedigree registration paper. This should be included in the purchase price.
Members of our club who are breeders do not breed very often. The are not commercial breeders. They love there dogs and the Griffons are part of their family. They do not breed to make money but because of their love of the breed. They breed to produce high quality stock that are sound and healthy physically and mentally and they research their breeding before they carry it out.
Because of this Griffons are not very common and often there are not pups available at the time you might want one. If you approach a breeder be prepared to answer a lot of questions so that the breeder can decide if you are a suitable home for their precious puppy.
If you have decided that a Griffon is the dog for you then you may have to wait for a puppy to become available. Because of their small size Griffons do not have very large litters so pups are not always readily available as they are in the big breeds that may have 10 pups per litter.
If you want a Griffon please be patient and keep in touch with the breeder you have approached. Come to some dog shows, fun days or Dogs on Show days and meet some Griffons. The owners are only too happy to talk to you and let you meet and play with their dogs. If you do go to shows just remember to respect the dogs, wait for the dogs to be judged and always ask if you may pat the dogs.
The breeders shown below are members of The Country Griffon Bruxellois Club of NSW.
Rosndae Griffons (NSW)

Roslyn & David Finch

Ph 02 4655 1669

Lochtay Griffons (NSW)

Kerry & Emily Bell

Ph 0412 998 663

Raweke Griffons (QLD)

Jocelyn Croad & Shane Thomas

Ph0419282176

Majomarc Griffons (Qld)

Ven Grasso

0407 737 665

Dilkare Griffons (NSW)

Donna & Jason Murphy

Ph: 02 96234465

Balliol Griffons (NSW)

Michelle Parker Brien

Bokson Griffons (WA)

Brian & Sue McKie

Perth, Western Australia

Ph: Sue - 0407 070 051 Brian - 0417 902 648

Email: [email protected]

Dalisay kennels (NSW)

Mr C Tobias & Mr M White

0406194137

Nevaending Griffons (NSW)

J Tremenheere

Nagpuni Griffons (NSW)

Terri O'Dell

Ph: 0411-441707

Beaufox Griffons (NSW)

Jane Wistuba & Sharyn Wood

Ph: 0409815919

Shigriff Griffons (NSW& SA)

Caroline Elder & Michelle Gurney

Mob: 0438898597

Paris Griffons (NZ)

Sandie Meads & Fern Feaver

Ph: 0064212515776

Tiroroa Griffons (NZ)

Jocelyn Walker

Briary Griffons (WA)

Hilary Swain

Ph: 0893984476

LaFolie Griffons (NSW)

Claire Parker O'Sullivan & Matthew O'Sullivan

Budinni (NSW).

Tiffany Budini.

0422197350. [email protected]

Nevafollo Griffons (NSW)

Ashleigh Barber

Tiggndor (Qld)

Lysanda

Country Griffon Bruxellois Club of NSW

Contact Information

Club Website- griffonsnsw

Club Face Book Group- Griffons NSW

Club Face Book Page – The Country Griffon Bruxellois Club of NSW

Instagram - @griffonsnsw

Frenchgriff (NSW)

Victoria Mercer

Krusayd (NSW)

0422755421

Other Griffon Club Contact Information

The Griffon Club of Queensland

President: Ven Grasso

Secretary: Naomi Lawrence

The Griffon Bruxellois Club of Victoria

President: Beth Canavan

Secretary: Robin Simpson

Treasurer: Marina Looker

http://www.griffonclubvic.com/

The Griffon Bruxellois Club of New Zealand

President- Sandie Mead

Secretary/Treasurer- Janet Ritchie