History of the Breed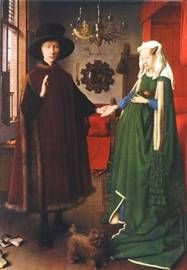 History of the Griffon Bruxellois
Origins to World War One
It is generally accepted that small rough coated dogs existed in Europe in the middle ages and these little dogs which were generally kept as ratters and stable dogs were the stock from which Griffons Bruxellois, Affenpinschers and the Dutch Smous dog developed .
The painting by Jan Van Eyck called The Marriage of the Arnolfini Couple dated 1434 has a small rough coated dog in front of the couple which is believed to be an early Griffon type dog. Sir Howard Handley Spicer, a leading authority on the breed in 1919 that said it resembled the earliest imports into England
These small rough coated dogs were popular not just as stable dogs but also as house dogsand were used to keep the mice down in the kitchens and living areas. Becaue of their delightful personalities they soon became popular as pets as well as ratting dogs with both the wealthy and the poorer classes.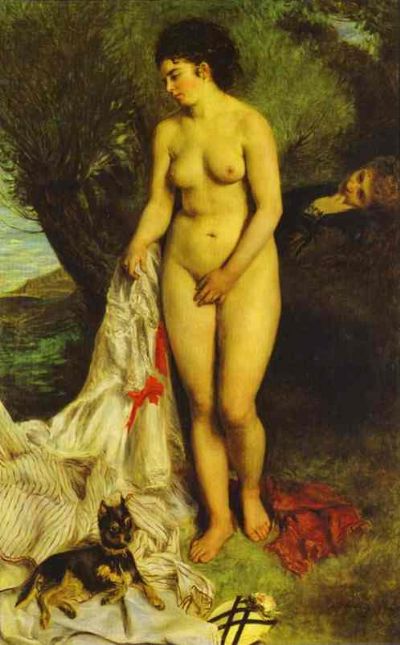 In 1870 Renoir produced a painting titled La Baigneuse au Griffon (The Bather with a Griffon) which, depicts a Griffon with its owner. This painting clearly shows a little dog that closely resembles a black & tan Griffon with cropped ears. The nose is still longer than now but the rest of the dog is very much like our present day dogs.From this painting we can see that the name Griffon to identify the breed was accepted and recognised by 1870 even though the breed was not officially recognised until 10 years later.
By the latter years of the 1800's Griffons could be seen in a variety of backgrounds. They were kept as pets by royal or wealthy families but they were not just pets exclusively for the wealthy, they were also seen in stables and waterfront areas where they had to earn their keep as ratters and alarm dogs to warn against intruders.
One of their nick names was parvenu or street urchin
By the mid to late 1880's they had become very popular as stable dogs with the cab drivers of Brussels who kept them for ratting skills
but also had them as family pets. The cabbies let them ride on their fiacres (hackney cabs) as they went about the city and the Griffons became very well known for their monkey faces and cheeky pert expressions. They also acted as alarm dogs, barking to warn the cabbie of anyone who approached the cab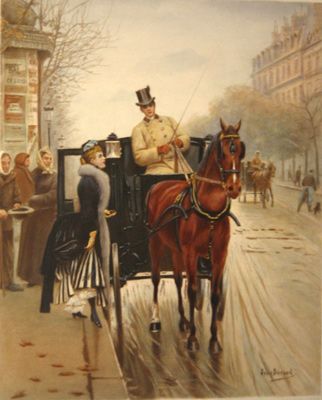 It was during the period of the mid to late 19th Century that the breed began to increase in popularity and a variety of people introduced a number of crosses were introduced to the breed. No records were kept of these crosses and this has been a source of much discussion and disagreement over the past 100 years. It is believed that Yorkshire Terrier, Pug and King Charles Spaniel were some of the crosses introduced.
By 1880 the breed had become so popular in Belgium that a committee formed to draw up a breed standard based on the top dogs at the time.
One of the first show dogs was a bitch called Miss owned by M. Notermans. He bred her to produce the first ever champion Griffon Bruxellois Ch Fox who was also sometimes called Fox van Vleurgaat. Fox was mated to a Yorkshire Terrier and produced a dog called Petit Fox
Another famous dog bred at about the same time was Petit Waterloo. He was then mated to a Pug bitch and produced Tom. This bloodline proved to be very influential and is behind many of the Griffons today.Griffons had been registered.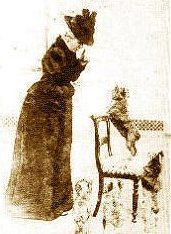 In 1894 Queen Marie Henriette of the Belgians became attracted to the Griffons Bruxellois and started to breed them to improve their quality. This led to an upsurge in popularity of the breed, particularly among the fashionable people of the day. Both the Queen and the Duke of Flanders had extensive Griffon kennels.
Last photo taken of Queen Marie Henriette with her Griffons in 1902
Later Queen Astrid also continued this interest in the breed and the numbers of Griffons bred in Belgium reached some of the highest ever seen. Just prior to the outbreak of World War One there were about 5000 Griffon bitches in Belgium.
Smooth Griffons
In the latter years of the 1800's both smooth and rough Griffons had been appearing in litters. At first the smooth Griffon pups were discarded but when a few breeders began to recognise their true Griffon qualities, it was decided to recognise them as a separate variety known as Petit Brabancon, named after the Brabant region of Belgium.
This growth of popularity of the breed in Belgium also attracted interest from people in other countries and in the 1890's increasing numbers of Griffons began to be exported to England and some to America.

The earliest Griffons to England went in about 1880 but the first registered authenticated Griffons appeared in the 1896 Studbook. Two were Fox and Bijou bred by the Duke of Flanders and the other two were Monsieur Kiki and Princess Helene.
Mrs Kingscote imported Fox, Bijou and Princess Helene and Mr Butt imported Monsieur Kiki.
The first Champion Griffon in England was Bruno, bred by M. Telemans in 1895 in Belgium and owned and imported by Miss Wimbush. He was followed by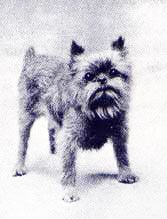 Mousequetaire Rouge and his litter sister Margurite Rouge, born in 1899 and owned by Mrs Moseley.

Sparklets – a Griffon bred in 1901

In 1898 The Griffon Bruxellois Club of Great Britain was formed and is still in existence today. This club was responsible for much of the progress that the breed made in England.
Prior to 1898 all Griffons had been registered in the English Kennel Club register in the "Foreign Dog "Section. After 1899 they were registered as Griffon Bruxellois
In this period between 1889 and the start of World War One in 1914, there was a growth of popularity in the breed in England and a number of highly influential people began breeding. As in Belgium they became popular with the elite and titled classes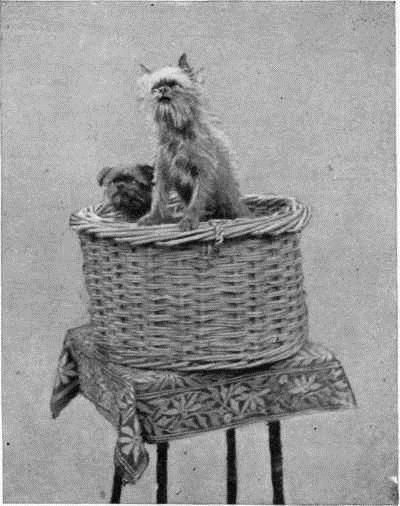 .
In 1883 the first ever Griffon Bruxellois breed classes were scheduled at a show.

Two of Lady Handley Spicer's Griffons
The leading breeders of this pre WWI period were :
Lady Handley Spicer with her Copthorne prefix. She first bred under this prefix in 1901 and she dominated the breed for the next 20 years.

Mrs Whaley with her Glenartney kennel
Miss A J Johnstone with her Sunnymede Kennel

Mrs Hall with her Park Place prefix
These four ladies dominated Griffons in the first decade of the 1900's , importing dozens of Griffons from Belgium, with Lady Handley Spicer doing more for the breed than any other.
In the period around 1910 five more famous kennels came into existence and made an impact on the breed. They were:
The Misses Plunkett with their Castlehaven kennel
Mrs Sainsbury with her Causeway kennel
Mrs Charters with her St Margaret kennel. Mrs Charters bred some outstanding Griffons until the 1920s when she began to breed Sealyham Terriers instead.
Mrs Parker Rhodes and Mrs Pepper with the Partridge Hill Kennel
The Hon Mrs Ionides with the Vulcan kennel

The last two kennels continued to successfully breed after World War One and The Hon Mrs Ionides kept a kennel of 30 Griffons in her house
in Twickenham and had her puppies play in the ballroom
The outbreak of World War One had a devastating impact on dog breeding.
Cover of Hutchinson's Dog Encyclopedia
(1934) showing Mrs Parker Rhodes with her Griffons
In Belgium the breeders were hit very badly and numbers dramatically declined with many of the breeders ceasing breeding, never to resume it again.
In England although large numbers of breeders were badly affected and ceased breeding many of the leading kennels were able to continue to breed their dogs for much of the war.
As can be seen on the table on the following page breeders in England were able to maintain numbers until the last two years of the war when shortages increased and it was harder to feed dogs and maintain kennels.
When peace was finally declared the breed was stronger in England than it was in its own country and large numbers of Griffons were exported from England back to Belgium to help rebuild the breed. A similar occurrence took place after WW2.
Number
of Griffons Bred and Registered in England 1898 – 1919
Year

Number of
Griffons Registered

Year

Number of
Griffons Registered

1898

3

1909

80

1899

12

1910

74

1900

45

1911

116

1901

45

1912

159

1902

31

1913

162

1903

29

1914 Years

123

1904

55

1915
of

130

1905

51

1916
World

101

1906

88

1917
War

30

1907

63

1918 One

3

1908

73





It is now generally acknowledged that although Belgium is the country of origin, the UK must be credited as the country of development
The Period between the Two World Wars
World War One had a drastic impact on the breed.
In 1913, the year before the war started a total of 162 Griffons had been registered with the kennel club in England. In 1918, that final year of the war only 3
The economic impact of the war on the country was enormous and food was heavily rationed making it difficult for people to feed themselves, let alone feed their dogs. Government edicts against hoarding food and stiff penalties for those who disobeyed made it even more difficult to maintain a kennel, much less breed dogs.
In Europe, the impact was even greater. Belgium had been the battle field of much of the war and was left a crushed weakened country.
Unremitting heavy shelling, trench war fare and the use of mustard gas had destroyed villages, roads and valuable farm lands. There was little food available for the Belgians and they could scarcely feed themselves much less their dogs which had become a luxury.
Mrs Handley Spicer, Copthorne Griffons walking her dogs
However despite the hardships in both Britain and Belgium some kennels did manage to survive and save their breeding stock even if they could not breed during the war years.
In Belgium one of the top winning Griffons of 1914, a rough dog named 'Bouquet' survived and was considered to be the truest to type that the breed had known.
Immediately after the Armistice breeding in Belgium began and progressed by leaps and bounds, so much so that within a few years there were rumoured to be about 5000 brood bitches in the vicinity of Brussels.[1]
In England 3 of the 4 leading Griffon kennels managed to survive and commence breeding when the war ended.
They were :
· Copthorne (Mrs Handley Spicer)
· Glenarty (Mrs Whaley)
· Sunnymeade (Miss AJ Johnson).
In addition the Partridge Hill kennel of Mrs Parker Rhodes and Vulcan kennel of The Hon Mrs Ionides also survived leaving Britain with a very strong foundation with which to recommence breeeding.
Partridge Hill Advertisment 1925
England, like Belgium saw a rapid and enthusiastic growth in Griffon breeding in this period between the wars. As well as the established pre- war kennels a large number of new English kennels began during this time.
They were:
Rippingdon –Miss Croucher

De Mons – Mrs Glendower

Clifton Wood – Mrs Richardson

Austral – Mrs Powell

Doreens – Miss Caughie

Babbacombe – Miss Clay
Glenwood – Mrs Bardwell
Rippington Griffons Crufts 1922
Such growth continued well into the 1920's and 1930's when Griffons became quite fashionable little dogs.
The extract below from the 1931 Women & Dogs magazine shows how Griffons were the fashionable ladies dog of the time
"Me and darling Pinkie". Wrote Mrs Patrick Campbell (1865-1940)- the greatest British actress of her generation and original Eliza Doolittle in George Bernard Shaw´s Pygmalion- on this photograph of her little monkey griffon. A German "lady´s dog", she was presented to the actress by King of the Belgians. The breed was the height of fashion and, as was only fitting for such a grand little thing, she dined off the best china and slept in the bosom of her mistress. The pair were inseparable and quarantine laws were regularly broken. When Pinkie was old and fragile,
Mrs Campbell
tried smuggling her back to England after an American tour, buying a Mexican parakeet to accompany them in the cabin; when Pinkie barked, she could tell them it was the clever mimicking bird. Unfortunately the secret was discovered, but Mrs Campbell, pleading that her old dog was blind and almost toothless, was let off with a fine of only thirty shillings (150 pounds), and was allowed to keep Pinkie. Her other dogs included a Japanese Chin, and a Pekingese called Moonbeam.
Taken from: "Women & Dogs. UK, 1931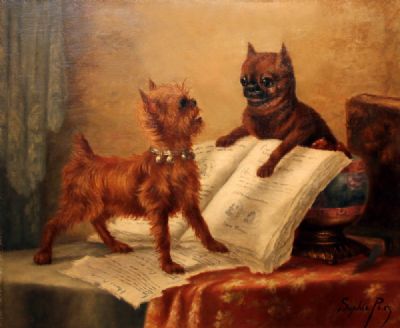 Up until this time it was not unusual for Griffons to have 'webbed feet'. This was thought to be due to the earlier crossings of the breed with the English Toy Spaniels.
Scholars by Mme Sophie von Pir(1858-1936) European Griffons showing the cropped ears
Although there were no health problems that seemed to be associated with the web feet, after WWI the authorities in Belgium decided to make a 'stand against the 'web foot'. It was declared a disqualifying fault and breeders were not permitted to breed from any web footed stock. The 'web foot' was soon eradicated at huge cost as large numbers of quality dogs were wiped from breeding programs.
The breed became depleted and quality rapidly deteriorated.
It seemed that it was the best dogs that were linked with the 'webbed feet' – they were the dogs with the best heads, the large nostrils and the high nose placement - qualities that gave the Griffon face its unique characteristics.
With most of the best breeding stock eliminated from breed programs, the Belgium breeders had little to work with and by 1939 there were very few Griffons left.
When WWII broke out, breeding ceased and by the end of the war the breed was almost extinct in their home country.
Biffon of Causeway 1919- showing the large head and big nostrils
This did not happen in Great Britain. The question of web feet was considered but the English had the foresight to recognise the qualities that were linked with the web feet and did not declare it a fault. The breeding of Griffons in the UK therefore continued to increase in quality.
More top kennels were formed in the 1920's and 1930's. They were:
· Joyvalley – Mrs Lennon

· Johnsfield – Mr & Mrs Cockburn

· Meadowlands – Miss Fryson

· Lalarookh – Mrs Bridle

· Gerrards- Mrs Thomas

· Hilladene – Mrs Dennis

· Irton – Mrs Cliff

· Lavenderway –Mrs Mitchell

· Skibbereen – Mrs Street
These kennels started to produce high quality Griffons, probably the best in the world, and the legacy lives on today in the dogs that they produced.
Some of the Griffons from this time
Advertisement for Vulcan Rin Tin Tin – 1927
Pierrot of St Margaret – 1921
1927-Vulcan Kleptje- a red smooth Griffon bred by Mons. Halmelinchix Brussels. Imported into England by The Hon Mrs Ionides, Vulcan kennels
Mirette - A French Griffon 1920
References: Griffon Bruxellois – Marjorie Cousins ( out of Print)
The Griffon Bruxellois Handbook – Mollie E Grocott (out of Print)
Article on The Brussels Griffon by Mrs Handley Spicer- from the New Book of the Dog- Robert Layton -1907 (see link on page 4)
---
[1] Hutchinsons Dog Encyclopedia