Griffon Club Events
Sub-links for this page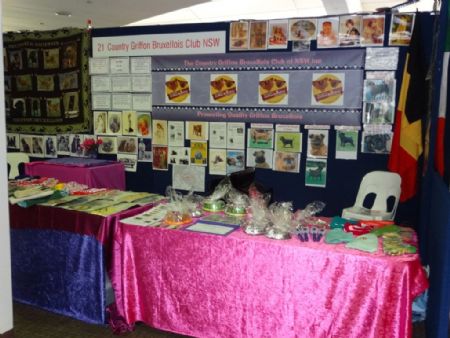 The Country Griffon Bruxellois Club of NSW regularly participates in the Pet Expo and Dogs on show with a breed stand to explain the history of the breed and to give the public some information about our wonderful little dogs.
2015
Once again our club is planning on being active and involved in several event promoting our lovely little dogs. Already plans are in place for our club to be represented at two events.
DOGS On SHOW will be held at Orchard Hills on June 13th, along with a dog show which will feature a point score show for the club. This is a large show which usually get an entry of about 20 Griffons so we invite members to come along. We welcome any members who would like to help on the breed stand to tell people about our lovely little dogs
DOG LOVERS SHOW . Once again we will be participating in the Dogs on Show event held at Hordern Pavilion in Central Sydney. This year the event will be held on 15th and 16th of August. We invite members to come along and help us on the breed stand or come along and visit us.
More details for these two event will be available as they are provided, closer to the date
The Dog Lovers Show 2014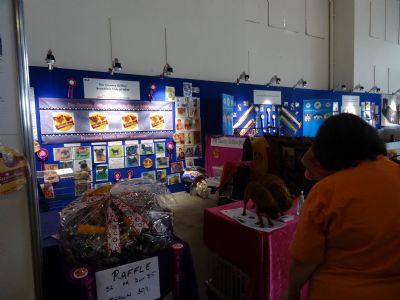 The Dog Lovers Show was held in Sydney over three days in November, 8th, 9th and 10th. This event has been held in Melbourne in the past but this ws the first time it had been in Sydney. Set in The Hordern Pavilion in central Sydney, it attracted huge crowds and the Griffons had a lot of attention.
It was a large scale event with a hiuge number of trade stands and Ros and Dave Finch set up the club stand on Thursday in the usual club colours of pink and purple.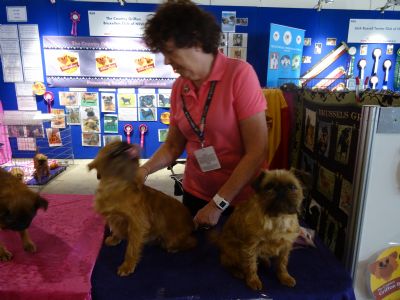 We held grooming demonstrations at the stand on two of the days so that people could see that hand stripping was not a painful process if done properly.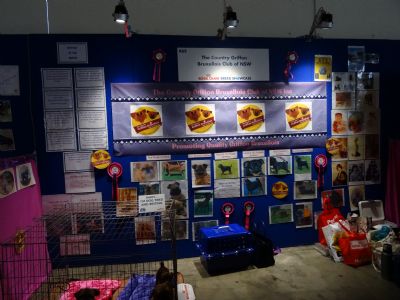 The Griffons were so popular that the crowds were 3 and 4 deep all day long. We had about 8 Griffons each day with both rough and smooth coats so that they coos have a rest when they got tired.
The Griffons had a great time and loved meeting everyone.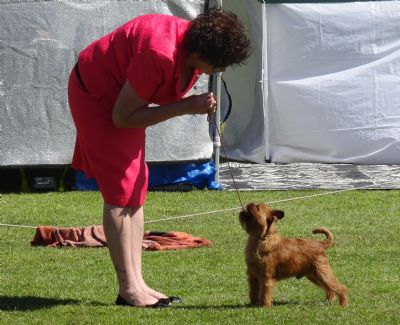 Dogs on Show 2014
Dogs on Show was held at The Bill Spilstead Dog Show Grounds Luddenham Rd Orchard Hills on June 14th 2014. Ros and Dave Finch, jannelle Tremenheere,Claire Parker and Jane Wistuba all helped to man the stand and as usual there was a lot of interest in the Griffons who enjoyed their day.
There was a Championship Dog show on as well and there was a large entry of 150 dogs in the Toy group.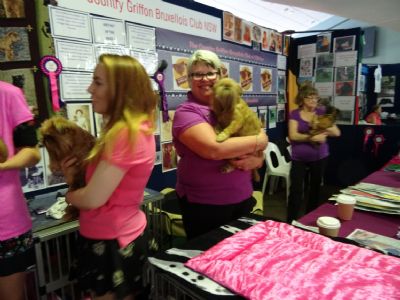 There was a large Griffon entry and we were please to see that the Best of Breed Griffon- Gr Ch Balliol Gellert Grindalwald also went on to win Best In Group, beating all those other Toy breeds
.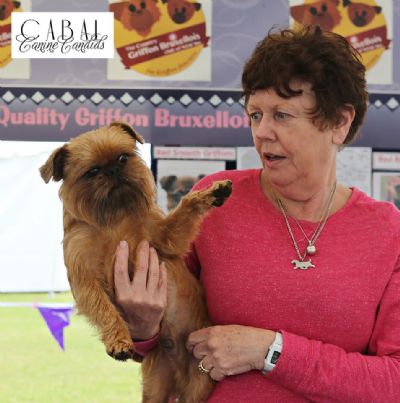 Pet Expo February 2014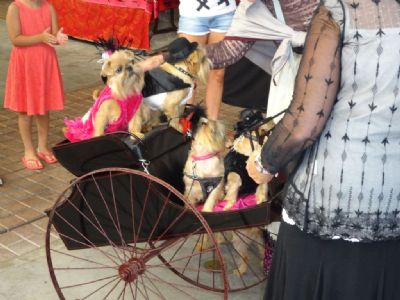 Ros and Dave Finch brought in their miniature sulky, to represent the Griffons that used to travel with the coachmen in Brussels in the 1800's and they dressed their Griffons up as a coachman and some elegant Griffon ladies .The Pet Expo took place at Rosehill Race course in February and The Country Griffon Bruxellois Club had a breed stand and took part in the Pageant of Breeds.
Along with Felicity Begg and Janine Brown we are very proud to announce that they won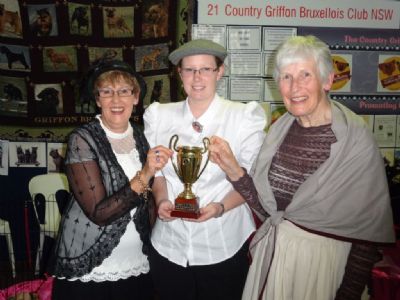 First Place in the Breed Pageant .
The proud winners
Dogs on Show 2013
We had a breed stand at the 2013 Dogs on Show day and once again the Griffons attracted a lot of attention.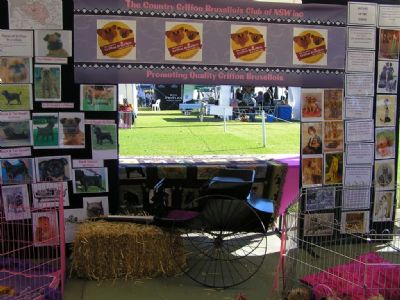 As usual we had good support from members and a large group of Griffons and owners- all dressed in the club colours of pink and purple were ion the grand parade in the centre ring.
Even though the Griffons were surrounded by some groups of very large dogs they were not bothered and in their own little Griffony way they had a great time being admired by the public and the large crowds.
In the breed stand we also had some bales of hay to indicate how Griffons were originally stable dogs and ratters as far back as the Middle ages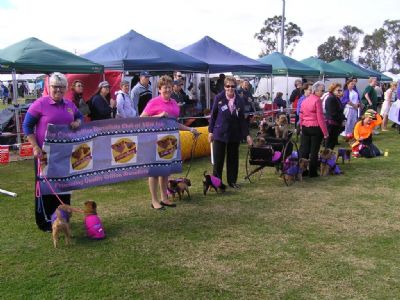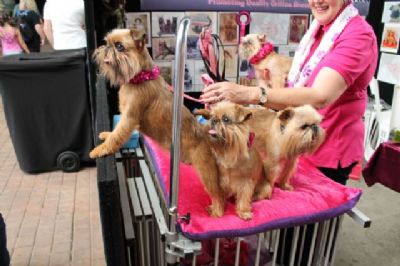 .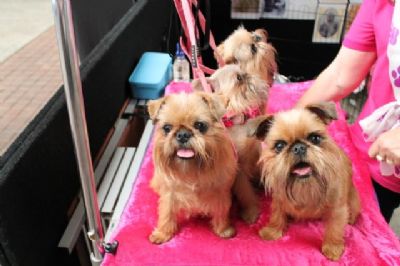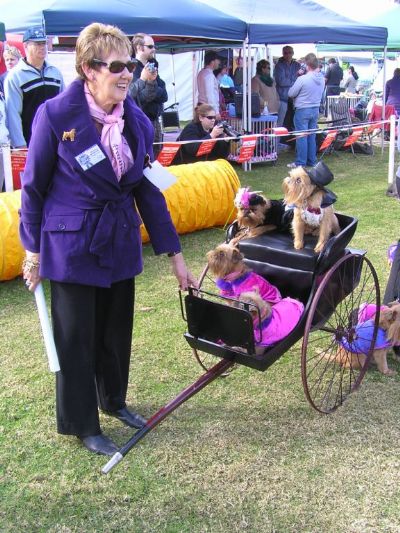 Dogs on Show 2012
The Country Griffon Bruxellois Club of NSW was proud to participate in the Dogs on Show day at Erskine Park show grounds. This event was organised by Dogs NSW to highlight and show case pedigreed dogs to the public.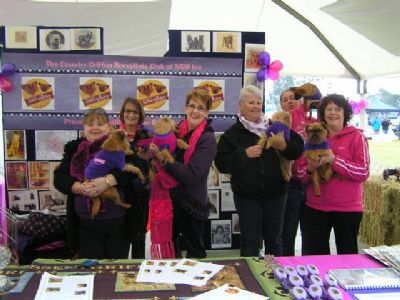 Unfortunately the weather which started off cold became even colder as the day progressed with a bitter misty rain that made things even more unpleasant. However even the weather could not deter our members or the Griffons and Ros Finch made some snuggly warm jackets for the all in the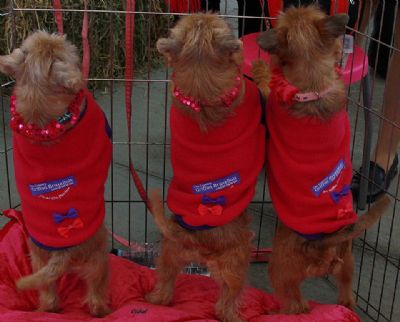 club colours of pink and purple.
Members also dressed up in the club colours and despite the grey day we added a touch of colour to the day.
We were proud to win the award for The Most Colourful Breed Stand.